all posts | tags | all posts, latest updates first | latest comments
One of the things that always baffled me from Asimov's "Robot" series, was: if the robot's ultimate goal is to look after mankind's welfare, why don't they take care of the scientific research? Why do they rely on humans for that? After all, they are sentient, can read minds, have far more speed and processing power than any human.
In Asimov's universe, even though the robots know that scientific progress is useful for the preservation of mankind, they always rely on third parties (meatbags) for research, and coming up with new developments.
After finishing "The End of Eternity", I kind of suspect why things are like that for him:
"The greatest good?" asked Noys in a detached tone that seemed to make a mockery of the phrase. "What is that? Your machines tell you. Your Computaplexes. But who adjusts the machines and tells them what to weigh in the balance? The machines do not solve problems with greater insight than men do, only faster. Only faster!"
I can't say I wholly agree with him; I suspect things will change in the future. But, at least today, he's absolutely right. As long as we use computers only as minions to carry out our exquisitely specified desires, we won't have anything better than a fancier/faster/dumber human.
There is a CARDIOID in my cup!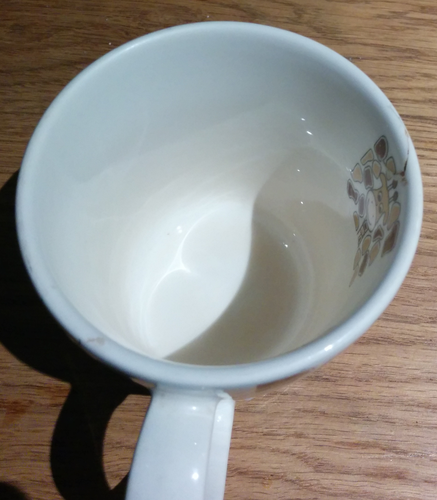 (or is it a nephroid?)
He stood upon the last
Bastions of the place
Looked out on the ruins
With thunder in his face

An introverted spectacle
In the flowers on the rocks
The daisies on the ramparts
Blowing free

His heart was divided
Clouds gathered in the sky
The belfry made of wood and steel
Was silenced in it's cry

Something must have happened
What, he wouldn't say
But shown within
The wider lens of history

[Chorus:]
His mission the transmission
Of technology

One cannon trained upon the church
This one caught his eye
"to keep the bishop in his place"
He muttered with a sigh

His mood was melancholy
His attitude severe
His inner burden
Weighed upon him mightily


A bird as never seen in books
Flew in overhead
A kind of dove it might have been
But not a sound was said


All the ancient knowledge lay
In pieces on the ground
The cause of all his suffering
Was not for love of me.

[Chorus:]
His mission the transmission
Of technology
Compare with:
You say you love me but you never beep me
You always promise but you never date me
I try to fax but it's busy, always
I try the network but you crash the gateways
You never spend your nights with me
You don't go out with other girls either
You only love your collider
I fill you screen with hearts and roses
I fill your mail file with lovely phrases
They all come back: "invalid user"
You never let me into your computer
You never spend your nights with me
You don't go out with other girls either
You prefer your collider
I gave you a golden ring to show you my love
You went to stick it in a printed circuit
To fix a voltage leak in your collector
You plug my feelings into your detector
You never spend your nights with me
You don't go out with other girls either
You prefer your collider
You only love your collider
Your collider.
(come semillas de girasol)
Hum, en últimas es difícil comer semillas: para abrirlas necesito usar al menos una mano, y la boca. Generalmente las dos manos y la boca.
Apuesto a que hace falta una cantidad de inteligencia no-trivial para lograr comer este tipo de semillas.
... las semillas de las plantas como herramientas del Monolito, planteando retos evolutivos para especies promisorias en la Tierra...
¿Cuál será la semilla más difícil de acceder?
Tienen que ser los cocos.
Maldito coco, lo lancé contra el piso, con fuerza, ¡Y rebotó! ...
¿Qué pasaría si hago chocar un coco contra un 1100?
¿Qué animales comen cocos? Deben ser pocas especies...
(busca en internet)
ajá, conque no soy el primero en preguntarme al respecto...
¡Miremos las respuestas!
— El Gran Asma de Dios. — Ponte tú a crear de la nada. Es algo que se hace una sola vez en la vida. Para soplar el mundo, como se sopla una ampolla de vidrio, Dios necesita contraerse sobre sí mismo, para tomar aliento, y después emite el largo silbo luminoso de las diez sefirot. — ¿Silbo o luz? — Dios sopla y se hizo la luz. — Multimedia.
Whenever you're called on to make up your mind,
and you're hampered by not having any,
the best way to solve the dilemma, you'll find,
is simply by spinning a penny.
No — not so that chance shall decide the affair
while you're passively standing there moping;
but the moment the penny is up in the air,
you suddenly know what you're hoping.

-- Piet Hein.
Ayer intenté hacer helado casero. Sin éxito, en realidad. El análisis post-mortem sugiere que:
El agua salada se mezcló con la leche.
No hubo suficiente hielo, y la leche no alcanzó a congelarse (que entrara sal tampoco ayudó, en realidad.)
La sopa resultante ... no fue mal almuerzo. (Hah)
Es un nuevo día, ataquemos el problema. Ahora usaré dos bolsas para aislar mejor la leche. También necesitaré más hielo, así que necesito más bandejas para hielo. Así que salgo a comprar un par de bandejas. Al colsubsidio, porque a dónde más.
Consigo las bandejas, voy a la caja. La fila es enorme. Día soleado, y con viento, que hace que la fila no importe.
Detrás de mí está la versión camionero colombiano católico analfabeta de Danny Trejo. Hasta acaba de salir de misa, y todo (me enteraría después). Tiene una cesta repleta de chucherías. Está de más decir que repleta >> 10, la cantidad de artículos máxima para esta caja. Su cesta pesa, por lo que la deja en el piso, y la hace avanzar con el pie.
Cuando llego al último pasillo (al que está perpendicular a las cajas), dejo que la fila avance un poco delante de mí. Tratando de respetar la zona antibloqueo/evitando que me empujen con los carros de mercado.
Por supuesto que Danny quiere avanzar, así que sigue pateando su mercado, e intenta sobrepasarme.
— Señor, no hace falta afanarse. Dejemos ese espacio.
— ¡¿Por qué no avanza?! ¡¿No ve la fila?!
— La idea es que dejemos ese espacio, para que otros puedan pasar. Su cesta estorba.
— (sube el tono de voz) ¡¿Por qué no ayuda?! ¡¿Sí ve?! ¡Por eso estamos como estamos!

(sí, dijo eso, literalmente)
A pesar de eso, pareció entender el mensaje. Cuando pasó alguien más, con su carro de compras, quitó su cesta del camino. Y se pegó a mi espalda. Porque ya había ocupado ese espacio, claro. Lo entendió, pero era demasiado pedir que actuara en consecuencia.
Sospecho que se sintió mal, porque trató de hacer charla, mientras esperábamos. O, trató de deshacerse de mí, mencionando varias veces que podía facturar una compra pequeña, como la mía, en la panadería (en el otro extremo del supermercado). Quién sabe. Hice lo posible por ignorarlo sin ofenderlo.
Llego a la caja. De la nada se materializa una señora delante de mí, que me pide la deje pagar sus cosas, apenas dos.
(Es un día soleado, y el viento sopla, y se escucha en las copas de los árboles. Como en las vacaciones de diciembre, con mi abuelita.)
Es una señora de unos sesenta años. Manos arrugadas, con manchas. Con gafas. Habla con pausas. «Pase.»
(Nota al margen: cada vez me convenzo más y más de que tengo una cara de buena papa inocultable. En lugares públicos, con gente/amigos alrededor, siempre me piden a mí ese tipo de favores. Cara de pichón, diría Bart Simpson.)
Le entrega sus artículos a la cajera, le entrega el dinero. La cajera factura.
— Ay. Señorita... y para, ... para, ... para los puntos ...
— No, señora, ya facturé.
La señora hizo mala cara, recibió el cambio, y se fue.
(No, no me enorgullece que me asocien con uds., compatriotas, y con su puta invalidez cultural.)
Adele's Set fire to the rain always reminds me of Edward Teller, worried about the possibility of setting the atmosphere on fire as a consequence of nuclear fission. More specifically, he thought that the energy released by a nuclear explosion might also cause spontaneous nuclear fusion of elements in the atmosphere, and that the heat/energy released would cause even more fusions, thus becoming a self-sustaining reaction that would eventually burn all of the atmosphere and destroy the Earth.
Quoting from here:
Nevertheless, the terrible possibility was on people's minds. Enrico Fermi, one of the most brilliant of the atomic scientists, offered to take bets on whether or not the bomb would ignite the atmosphere, and if so, whether it would merely destroy New Mexico or the entire world. His macabre humor was not appreciated.
At that moment, it was enough of a concern to make a proper evaluation of the possibility of such an event. Turns out it isn't possible (but we didn't need that paper to check it, did we?). Still, quite interesting, for a thought experiment.
(tremenda tusa, para incendiar la lluvia)
Hace rato tengo varias preguntas acerca de la voz humana. Dear Lazyweb, pretty please:
¿Es posible mostrarle a los demás cómo suena para nosotros nuestra propia voz? esto sugiere que sí, y que tal vez no sería taaan complicado.
¿por qué hay tantos cantantes cuya voz normal difiere tanto de la que usan al cantar? ¿es esa diferencia voluntaria? Lo único que he encontrado al respecto está en TVTropes, y es apenas un inventario.
¿Acaso el idioma, y en especial el acento, cambian de manera permanente el sonido de la voz? ¿por qué las españolas tienen una voz tan particular? Lo único que encuentro al respecto es cosas de política, lanzamientos de cantantes españolas (que debieran ser defenestraciones más bien), y joyas como ésta.